ConocoPhillips Australia Wins Big at SPIRIT Awards
ConocoPhillips' Spirit of Performance Awards are held annually and honour the teams and individuals who best exemplify our SPIRIT values and the highest standards of performance. The Executive Leadership Team in Houston selected 38 winning teams after careful consideration of more than 90 global nominations.
Three Australian teams took home awards in the Business Excellence, People, and Safety categories – an incredible achievement.
'Business Excellence' Category Award
Winner: Shutdown Teams
In 2018, we successfully completed a planned 30-day shutdown at Bayu-Undan and 35-day shutdown at Darwin LNG. Over 60,000 hours of complex work-scopes were safely executed over a five-week period, with another 20,000 hours of pre-work completed in the lead-up.
The shutdowns were completed under budget and within schedule, with no injuries or significant incidents. The success of the shutdowns was the use of Integrated Operations principles in all aspects of planning and execution, with teams working across functional, geographic and company boundaries to achieve a well-coordinated outcome.
DLNG Shutdown Bayu-Undan Shutdown
'People' Category Award
Winner – Darwin Operations Centre Training Academy (DOCTA) program
In 2018, we implemented the seventh DOCTA program to provide Darwin residents with a pathway into the oil and gas industry, support our residential workforce policy and flow benefits to the communities in which we operate.
This intake was redesigned as part of our Diversity & Inclusion Action Plan. It focused on increasing diversity in the candidate pool, particularly with females and people from Aboriginal and Torres Strait Islander (ATSI) backgrounds.
The program length was increased from 12 to 12-24 months, to allow time to complete competencies. A record number of female and ATSI applications were received. Of the six successful candidates, four were female and two identify as ATSI. Since 2010, 36 Territorians have completed the program. These trainees now represent ~60% of DLNG's area operators, with three acting in Operations Supervisor roles.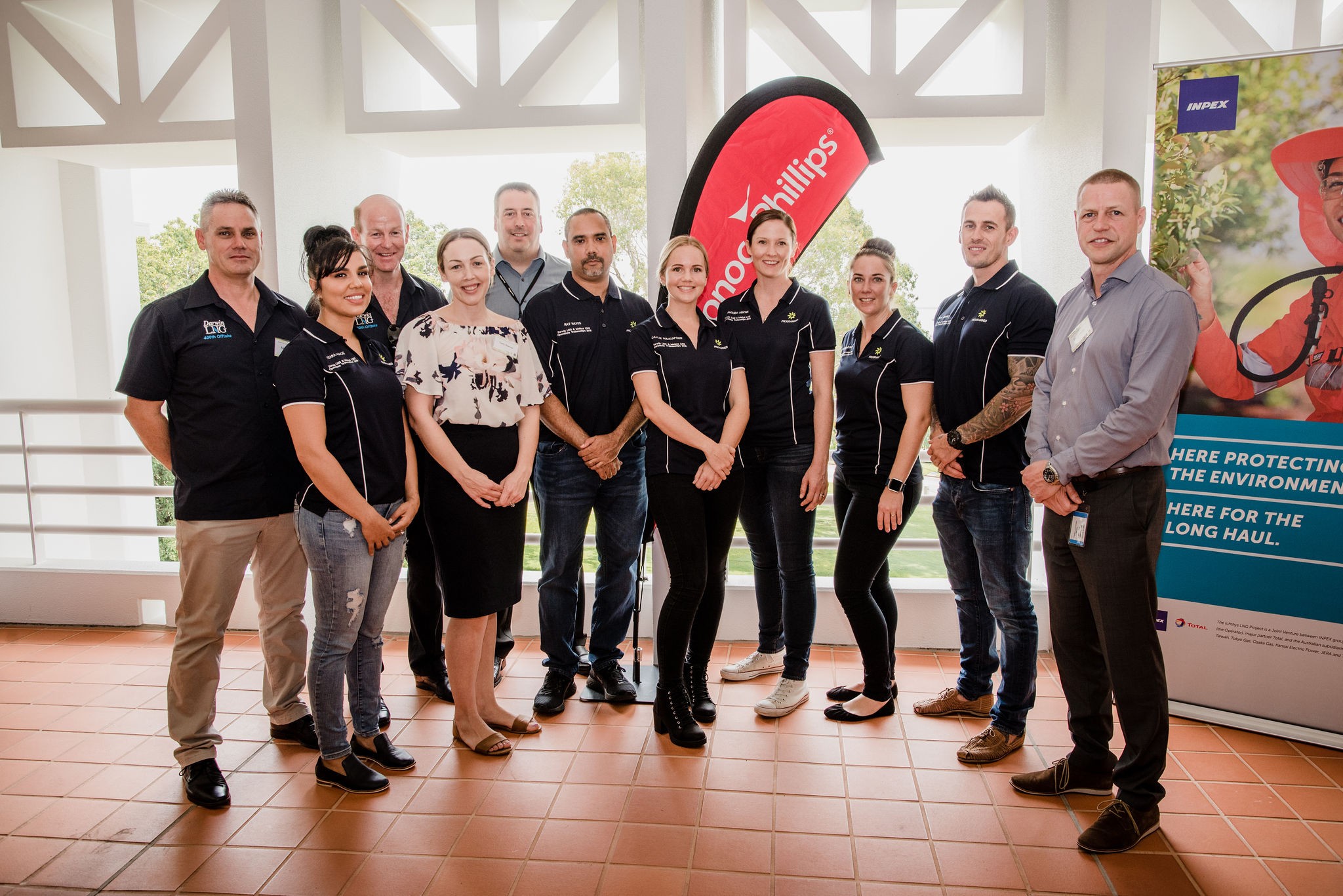 2018 DOCTA intake
'Safety' Category Award
Winner – Leading Health Safety and Environmental Performance
Australia East achieved two significant Health Safety and Environmental (HSE) milestones in 2018. Australia Pacific LNG's major hazard facility (MHF) licence was renewed without conditions, a first for any MHF in Queensland and the result of extensive hazard identification and safety assessment efforts, along with a collaborative working relationship with the regulator.
The Australia East business unit delivered exceptional HSE performance during two back-to-back shut-down events in early 2018. An excellent one-team focus, strong supervisor and workforce retention, and the implementation of HSE lessons learned resulted in successful shutdowns with zero environmental or recordable incidents, zero significant or high-risk incidents and zero Tier I or II process safety incidents.
APLNG Shutdown